Course description
This accredited ITIL Foundation certification course includes:
This course is perfect for anyone who wants to take the ITIL Foundation exam, whether they be first-time ITIL learners or experienced IT professionals.
You can work at your own pace - 24/7 Online Training SAVES hundreds of dollars and work time loss compared to a classroom based course
What do you get with your course
Accredited self paced online learning
300+ page PDF Workbook Yours to keep (PDF download)
Multimedia presentations to simulate the classroom experience
Downloadable resources so you can study on the go;
End of module review questions to assess your content knowledge
A full 40 question sample exam to assist in your exam preparation
24/7 online access to your course. (

Internet access required)

Access to trainers* and Discussion boards
---
Is this course for me!


The ITIL Foundation course and accompanying Workbook will give you:
Real-world scenarios that describe what you've learned in the context of service solutions. These include thought-provoking questions to challenge your thinking and understanding.
Section reviews for each chapter to help you zero in on what you need to know and practice exam questions.
A Real-World Guide to ITIL Skills. Key information and real-world examples organized around the actual day-to-day tasks and challenges you'll face in the field of IT Service Management.
Ability to assess what you've learned with challenging ITIL Foundation exam style questions.
Presentations that you can view and replay as many times as required, facilitated by certified ITIL trainers who explain each of the topics and concepts of ITIL.
Materials developed on the specific syllabus and exam criteria – so that you can be confident in achieving exam success on your first attempt.
We even have options to improve your learning experience:
These include:

Add the Exam Preparation Course

Over 100 additional exam questions as well as a second AXELOS approved sample exam, giving you added resources to feel confident in sitting the exam.

Include the ITIL Foundation exam voucher.

Self-booking exam

You can always purchase your voucher once you have completed the course via our eLearning platform. For those confident and ready to take the exam our self booking exam voucher offers a low cost option for our students.

PLEASE NOTE: This is an online exam only.

The Topics covered to understand the basic terms, concepts and relationships between the ITIL processes and functions.
| | | |
| --- | --- | --- |
| The Service Lifecycle | Essential terminology | Design Coordination & Service Level Management |
| Service Strategy | Service Strategy Processes | Service Design |
| Service Catalog Management & Supplier Management | Capacity Management and Availability Management | IT Service Continuity Management & Information Security Management |
| Service Asset & Configuration Management | Service Transition, Transition Planning & Support and Knowledge Management | Change Management |
| Release & Deployment Management | Service Operation | Service Desk |
| Event Management | Incident Management | Other Functions |
| Problem Management | Request Fulfilment & Access Management | Continual Service Improvement |
| Service Automation | The Seven-Step Improvement Process | Glossary of Terms |
What you need to know!
Pre-requisites before you start:

There are no pre-requisites for the Foundation program but a basic IT literacy and knowledge of IT services is desirable. Candidates must supply identification confirmation at the time of course registration as this is a pre-requisite of the governing body AXELOS. As we are an accredited training organisation you can be confident you are receiving the most up to date content on the market.

Contact Hours:

The recommended minimum contact hours for the eLearning course is 18 but the benefit of eLearning is that you can move at a pace that best suits you. Our different access options allow you to tailor the learning experience to your learning needs.


Credits:

Project Management Institute Professional Development Units (PDUs) = 18

Delivery:

The program combines short presentations supported by accredited trainer audio. There are also quizzes and exercises (marking scheme provided) to ensure learners are testing their knowledge and competency to enhance understanding of key concepts. Revision questions, study book, and a mock examination help to prepare for the multiple-choice AXELOS® examination. Our blended form of delivery makes sure that every student is able to study in a way that suits and benefits them.
About the Examination:
It is recommended that students should complete at least 18 hours of personal study by reviewing the syllabus and the ITIL Foundation book in preparation for the examination.
The syllabus can be downloaded from your course
The exam is a closed book exam with forty (40) multiple choice questions.
Exam duration is a maximum of 60 minutes for all candidates unless otherwise specified
Pass score is 26/40 or 65%

Is this course accredited?

Yes! AXELOS/ACQUIROS, the official ITIL accreditors, have accredited this course and the instructors who teach it as providing high-quality training in IT Service Management. It follows the most up to date syllabus as directed by AXELOS
What our students say: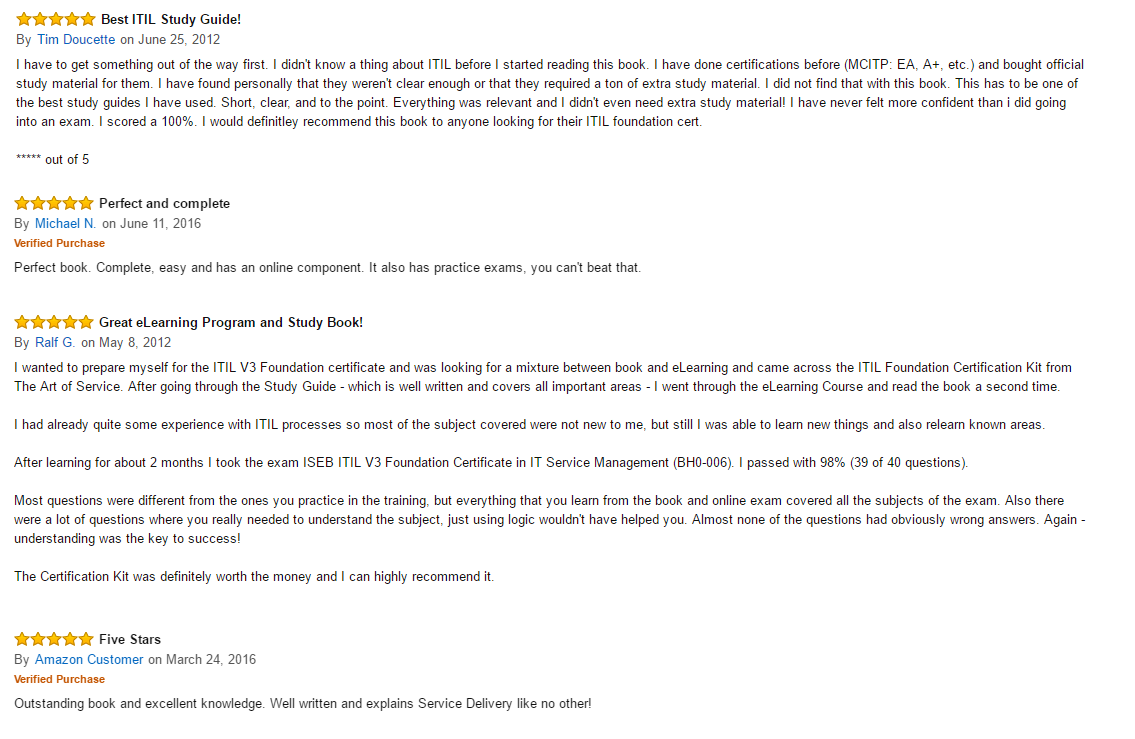 ITIL® is a registered trade mark of AXELOS Limited
AXELOS® is a registered trade mark of AXELOS Limited
The Art of Service Team
eLearning Support
The Art of Service has a team dedicated to your learning success! Our eLearning support team is available 7 days per week for ongoing support and to answer your course related questions.
Course Curriculum
Introduction to IT Service Management
Candidate ID Form MUST be completed for AXELOS® (Once)
Welcome to ITIL Foundation

FREE
ITIL Foundation Complete Certification Kit Textbook
Read More About the ITIL Certification Scheme
Service Strategy Introduction
Service Strategy Processes
Service Design Introduction
Design Coordination and Service Level Management
Supplier Management and Service Catalog Management
Capacity Management and Availability Management
Security Management and Continuity Management
Service Transition Introduction, Transition Planning and Support, and Knowledge Management
Service Asset & Configuration Management
Release & Deployment Management
Service Operation Introduction
IT Operations Management, Application Management, and Technical Management
Incident Management Process Model
Problem Management Process Model
Request Fulfilment and Access Management
Continual Service Improvement
Continual Service Improvement
Summary of Major Concepts
Need More Time to Complete the Foundation Course
Are you prepared for the Exam!
How to sit the ITIL® Foundation exam and Exam Voucher
ITIL Foundation Sample Exam version D_V2.1
ITIL Foundation Sample Exam D_V2.1 Rationale and Answers
Exam Preference form to be completed when ready to sit the exam (voucher required)
The ITIL Foundation Certificate Syllabus v5.5
Official AXELOS ITIL Glossary